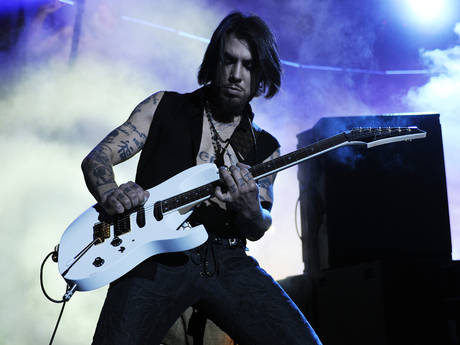 Dave Navarro on stage with Jane's Addiction in New Orleans, 2009. © Andrew Goetz/
Corbis
During the past year, Jane's Addiction have seen founding bassist Eric Avery,
always something of an erratic presence, turn in his walking papers yet again.
Within months of Avery's split, ex-Guns N' Roses and current Velvet Revolver
bassist Duff McKagan joined the fold. And for a time, all seemed hunky-dory.
Six months later, however, Duff up and quit, leaving behind many unanswered
questions, the biggest of which being, quite simply, When the band finally tours
behind their upcoming album (tentatively titled The Great Escape Artist), who will
be playing bass?
"That's really hard to say," says guitarist Dave Navarro. "Up, down, over and around
- that's pretty much how life is anyway. Why should a band be any different? And you
know what? Up and down and over and around is fine when it's about something
that's as much a gift as being a part of this band has been for so long."
Since late last year, the core Jane's trio - Navarro, singer Perry Farrell and drummer
Stephen Perkins - have hunkered down in the studio with producer Rich Costey
(Muse, Interpol) and TV On The Radio's Dave Sitek, who is playing bass and writing
with the band but is not, as Navarro stresses during our interview, joining the group
on any kind of full-time basis. "We've got some really great people working with us,
" he says, "and the vibe remains very positive."
Before heading to a recording session on a recent afternoon, Dave Navarro spoke
to MusicRadar about the current (and future) state of Jane's Addiction and his
thoughts on Duff McKagan's brief tenure in the group. In addition, he offered some
sage advice to young musicians looking to walk in his footsteps.
Even though things are "up, down, over and around," I imagine you wouldn't mind
a bit more stability in the band.
[laughs] "Well, my sense of stability has always been intact. I think we've dealt with
some unstable relationships in the past, but Perry, Perkins and I are pretty locked
into doing this. In fact, I would probably go so far as to say that the three of us have
never been this stable in terms of our personal relationships. And we've been doing
this for so long that with darkness comes the light. So to focus on things that don't go
the way you intended, well, usually there are opportunities for things to go in ways
that you didn't expect."
I totally understand. But the bumps in the road that you have encountered, are those
the things that have brought the three of you closer?
"Ultimately, I think it's a combination of a lot of things: some of the victories we've
shared; some of the bumps in the road, for sure; the fact that we've known one another
for so long and have worked with each other within different contexts and lineup over
three decades. You just kind of take a breath and go, 'OK, these are volatile relationships.
' To expect that they won't be volatile at times would, I think, be completely unrealistic."
Frankly, I was a little surprised when Duff joined the band. Not that he was a bad fit;
I just didn't see him as the logical choice. How did he hook up with you guys in the
first place?
"I'm not entirely certain as to the exact timeline of how that happened. Ultimately, for
me to answer that question would be to try to relay a conversation that he had with Perry.
The fact of the matter is, on a lot of levels, we were looking at a lot of the elements that
were right. We've been longtime friends, we've played together in a lot of the same
scenarios, we're from the same time, the same city, the same scene to a degree…
Those elements were, in fact, in alignment. To be honest, we as a band are happy to
cast our net in different directions. So we didn't know what to expect, either."